Upcycled Pabst…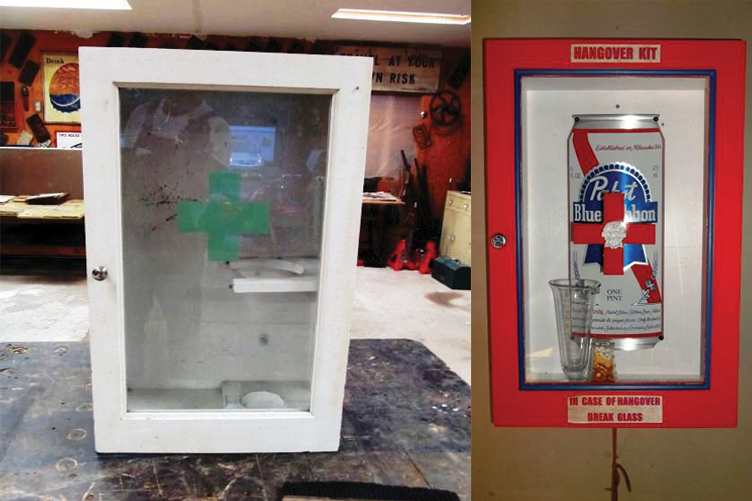 Upcycled? We're not sure. If you saw this episode, you know that Mark loves PBR and he thought this would be a great time to do a refurbishment of his own. A little redneck? Maybe. But let's face it….every man wants a man cave and even though Mark built his man cave in our office….there is no denying it's cool.
The Pabst Blue Ribbon symbol is an American icon. "PBR" is the working man's drink and loved by millions. Pabst dates back to the mid 1840's and was originally owned and operated by the Best family. By the 1860's, business was declining but in 1862 Captain Frederick Pabst married into the family and into the business. By 1874, Pabst was America's largest brewery and the name was officially changed in 1889. In 1893, Pabst won "America's Best" at the World Exposition in Chicago. From that time, Pabst was known as Pabst Blue Ribbon, or PBR, and that famous blue ribbon became synonymous with Pabst.
A lot of the items we recovered from Pabst came from the medical center….and anyone who has ever drank too much Pabst knows that the next day some peace and quiet, a comfy chair and hangover kit are your best friends.
To start, Mark hung the Pabst shower curtain (separating his man cave from the kids, dogs and offices). Upon drawing the curtain, you'll find a Pabst cot and blanket, classy keg lamp, hangover kit and the centerpiece: double lawn chairs with a Pabst umbrella in the center!
Mark started his refurbishment by taking the first aid kit from Pabst and turning into none other than a "hangover kit." He cleaned it up, painted in the Pabst colors, put a Pabst tin, some beakers with aspirin and more PABST beer inside.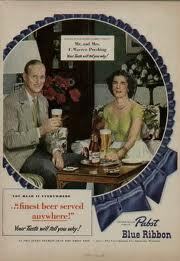 If you need a nap, you can chill out on the Pabst cot and if you're chilly: not a problem because folded neatly at the foot of the cot is a Pabst blanket. In the corner of the man cave is the "keg lamp." Mark took a keg that we saved from Pabst, stole a plant hanger from Ricki's garden and welded it to the keg. Then he borrowed an antique wooden handled drop light from Jay's shop, hung it on the hanger and voila: a keg lamp!
And the centerpiece: he took two lawn chairs, welded them together with some sheet metal, creating a small table that joins them and then for the finishing touches: cut a hole to slide the Pabst umbrella through! Now perfect for an indoor or outdoor man cave.
We hope you enjoy your man cave and remember all of the blue collar, blue ribbon drinkers who have made this country what it is today!
Measurements:
Double Chairs:
Width: 50″
Height: 32″
Depth: 26″
Drop Light
Width: 5″
Height: 14″
First Aid Cabinet:
Depth: 9″
Width: 18.25″
Height: 28″
Glass Jug
Height: 11″
Base: 5″
Hose: 45″
Pabst Umbrella
Height: 51″
Width: 144″
Cot:
Length: 74″
Width: 19.5″
Height: 9″
Beaker A: 
Bottom: 2.5″
Height: 4.75″
Beaker B:
Bottom: 3.25″
Top: 4.5″
Height: 9.25″
Pabst Curtain
Width: 71″
Height: 71″
Pabst Blanket
Width: 64″
Height: 79″
 Keg Lamp:
Width: "16"
Height: 63″
Depth: 17″
Weight: 
First Aid Cabinet: 23 lbs
Glass Jug: 3 lbs
Umbrella: 7 lbs
Cot: 13 lbs
Beakers: 3 lbs
Curtain: 4 lbs
Blanket: 3.5 lbs
Keg: 72 lbs
Inventory #: Paper Mill Refurb
Place a Bid
eBay Store