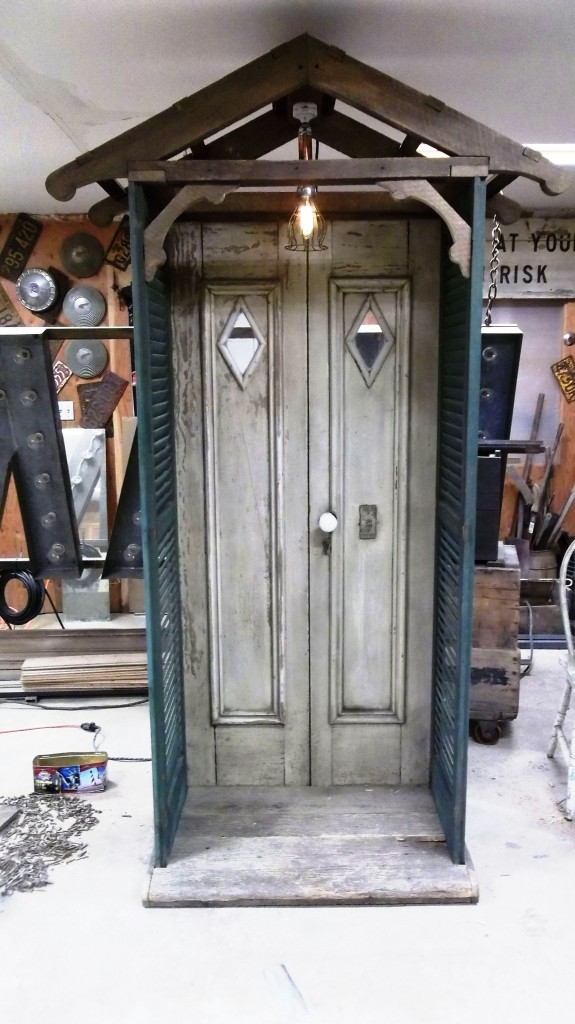 The Front Porch
While this piece began as a "photo booth" for the Philadelphia Home Show, it evolved, as most of our pieces do, into its' own work of art.  It began with two shutters which were recovered from a grist mill in Westminster, Maryland.  The 26,500 square foot mill was used to process grain and fed the local community for generations.  Though the mill closed in 1954, there were still objects dating to its original construction in the 1800's. 
The doors on the back were recovered from Amaral Barns in Newtown Conneticut.  In the 1850's, the Pecks purchased the land and built a thriving dairy farm.  In 1932, during the throes of the Great Depression, a local auto dealer, Daniel Amaral, purchased the property and used the barns to store the spillover from his auto parts business.  He continued to do so until his death in 1989.  In 2012, Jay purchased the contents of both buildings and after three rigorous weeks of hard labor, these doors were unearthed!  Now back in daylight, the amazing craftsmanship put in these hand made doors can be appreciated once again!  And the door bell?  After a few hours, Jay had the original door bell working as well!
For the floor, Jay used nearly 200 year old, original threshing floor.  The thick antique floorboards against the early 1900's doors, made the photo booth begin to feel like a front porch.  And every front porch needs a roof and some light! 
Fortunately, Jay had something that would work….in 2009, he dismantled a barn in Franconia, Pennsylvania.  Behind the barn was a chicken shack that had been converted to a makeshift maintenance room.   That  building had long since collapsed and the roof was now three feet off the ground.  Despite the fact that it was now home to many animals, Jay crawled through a hole to salvage what tools might be left there…one was a flashlight!  That flashlight is now the hanging porch lamp you see.  The roof is made from antique tin also removed from an early 1900's barn. 
While sitting on the front porch may not be as popular as it once was, we believe
there is much to be said for it!  This piece is a compilation of the trades of an era long gone…one where front porch sitting was a favorite pastime.  While we are not sure where this piece will end up, or for what purpose it will be used, it is our hope that you and yours will feel the serenity of those times each time you pass this Front Porch of America.