Johnsonville School Bell…
This school bell was recovered from Johnsonville Village in East Haddam, Connecticut. Founded in the early 19th century, Johnsonville was once a thriving village inhabited by workers of the nearby Neptune Mill, a prosperous twine and rope factory. The original town included the offices of the company, a library, post office, general store, housing, and a mansion built by the mill's owner. When the village began to decline in the 1960's millionaire and historic preservationist Raymond Schmitt purchased this 52-acre parcel of land. Some of the original structures were restored and Schmitt even had several other historical buildings moved to the area. When Schmitt died in 1998, his family sold the land. The current owner has done little with the property and it remains largely untouched. A church, school, general store, town hall, saloon, carriage house, and other Victorian structures compose this strange village, stuck in time, preserving the history of a bygone era. The school is where we recovered this mid 1800's, 24" cast iron bell.
There is some contention among historians as to just when bells were first made. Authentic history, however, tells us that bells were used no later than the second century! Bells were originally believed to be used as alarms signifying something, presumably an enemy, and there was at one time a great deal of superstition connected to bells, believing they could ward off evil spirits and storms. By c. 400 A.D. the use of bells had evolved and the first church bell was in use. Throughout the millennium the styles, sizes and uses of bells changed and spread throughout the entire world. Bell towers were built to house free swinging bells, such as this one, and the bell became a main source of communication throughout small towns. A bell could signify almost any event, from the beginning of a school day, a town meeting, a marriage or a war. It also signified the end to many things, including life….a saying made famous in "For whom the bell tolls."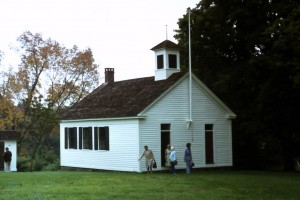 This bell was removed from the 1860's schoolhouse in East Haddam CT. After carefully removing this bell from the bell tower, Jay brought it back to Pa where restoration began. Amazingly, after over 150 years, this bell was intact and the cradle, yolk, body and wheel were still in extremely good condition. After sand blasting the bell to remove any rust or decay, the clapper was repaired. During casting, there were imperfections in the clapper which Jay filled. (Some original repairs are evident, but are solid repairs and add to history and character of the bell). He then applied a coat of primer and painted the bell a flat black. Finally, he replaced the tattered leather on the muffles with reclaimed leather from an old belt and attached it with antique copper rivets. The oak stand the bell now sits on is to demonstrate its intended use…to be suspended as a free swinging bell and be rung from below. While attaching the rope, we couldn't help but picture a mischievous young boy sneaking in to ring the bell!
This bell is so much more than an antique piece of cast iron. The messages delivered by this bell to thousands of people hold an amazing part of our past. Long before all the modern communication we're now accustomed to, it was this bell's sound that drew the townspeople together. It was this bell that we used to communicate with our families, neighbors and communities. It is our great hope that wherever this bell ends up, it remains a source of communication and comfort and serves as a reminder of a time when townsfolk were connected. As a sidenote, Jay's favorite movie is "It's A Wonderful Life"….so remember when you do hear this bell ring that an angel got its' wings!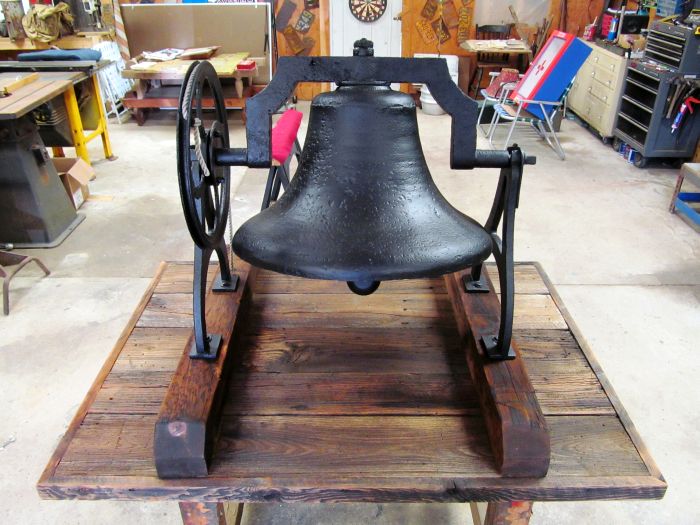 Measurements:
Height: 14″
Diameter: 24″
Rope Wheel: 16.5″ diameter
Cradle: 15″D x 30″W x 6″H 
Qty: 1
Inventory #: Johnsonville Refurb
Place a Bid
eBay Store