Amaral Barns Saratoga…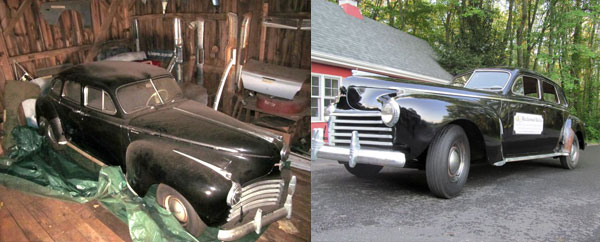 This Saratoga was recovered from a barn in Newtown, Connecticut.  In the 1850s, the Peck family purchased a plot of land in rural Newtown and built a thriving dairy farm.  In 1932, during the worst of the Great Depression, the Pecks sold the property to Anthony Amaral…. 
Anthony "Tony" Amaral first came to Newtown, Connecticut in 1923 just as the automobile was growing in popularity. Although horse-and-buggy could still be seen on Newtown's Main Street, in 1932 Tony founded Amaral Motors Service Station at 40 South Main Street. Over many years the business expanded.   A Chrysler-Plymouth dealership for many years, a showroom was added in 1950 and an autobody shop in 1984.
Amaral passed away in 1989, leaving behind two barns full of vintage auto parts and memorabilia.  His descendants still own the auto dealership, but are preparing to leave the Amaral Farm.  The current buyer has stipulated that the barns, along with all their contents, must be removed.  Fortunately, Jay stepped in before this incredible time capsule of automobile history was destroyed.  Along with many collectables and parts, he recovered this 1941 Chrysler Saratoga.  
The Saratoga nameplate first appeared in 1939 and was applied to Chrysler's most expensive full-size eight cylinders, above that of the Imperial and the New Yorker.  1941 was the first model to offer fluid drive.  In addition to fluid drive, this car has a flathead 8 cylinder engine and a 3 speed transmission.   This car could not speak louder of its' era. From the classy bakelight dashboard to the rope handles to hold a wool blanket on the back of the driver's seat or the hanging rope and tassel used to help exit the vehicle, it is obvious this vehicle was built at a time in our history when car manufacturer's took pride in their work and when owning a car was a luxury.  And for your inner gangster: suicide doors!  Suicide doors are hinged on the trailing edge closer to the rear of the vehicle…a tradition that began with the horse drawn carriage builders.  Especially popular in the gangster era of the 1930s, it was once said that "It's a lot easier to shove somebody out with the wind holding the door open"
This car was driven by only one man.  A local banker purchased the car new from Amaral motors in 1941.  When he passed, Amaral Motors purchased it back from his estate and parked it in the barn on their Newtown farm until Jay arrived.  On the door panel, it is recorded that the oil was last changed in 1969 when it had 51,351 miles.  It now has 52,012 miles!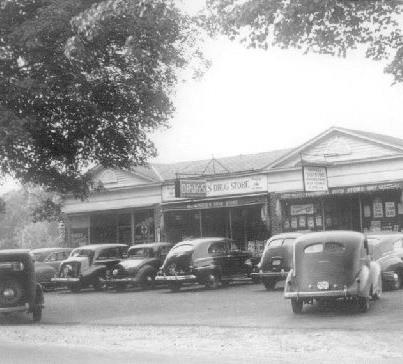 Because it was a cherished automobile, it was in surprisingly good condition.  Under decades of dust, dirt and some animal droppings, Jay recognized it was a gem.  Upon returning to PA with the car, he began a thorough interior detailing of the car.  He then took it to none other than MM Afflerback & Sons of Quakertown Pa.  Owned by two brothers now in their 70's, who took over their father's dealership when he retired, they've been working on cars since they were in their twenties.     After several weeks, they not only had her running again, but just as important…it was tuned up and fun for the family.  After detailing the exterior, it was time to ride!  And so, we went to football practice—the very, very cool way—in a 1941 Saratoga!    
The interior still needs some attention before we would deem it restored, but it is original, intact and no longer smells!    It needs a new set of tires and muffler in order to pass inspection but is otherwise roadworthy, cool as hell and a blast to drive.  
Included with this car are also the contents of the glove box: the original  Chrysler owner's manual, genuine borg electric clock manual, AAA membership, official CT map and personal effects such as Aspirin and a comb to name a few.   The details of the paperwork left in the glovebox speak volumes about the era in which this car was made.  Nothing was throw-away and everything was made and done the right way.  It really is true that "they don't build them like this anymore".     We hope that that you'll enjoy this vintage American automobile.  Like boaters and bikers, everyone in a vintage car like this one is in a good mood…it's just the way it is when you're living the way it was.  And Mr. Amaral was right…whoever owns this vehicle owns a true piece of vintage American history!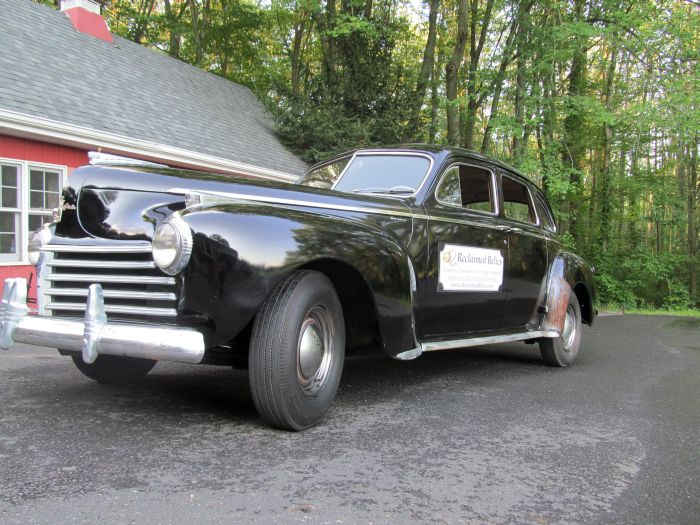 VIN: 6761640
Year: 1941
Number of Cylinders: 8
Make: Chrysler
Transmission: 3 speed
Model: Saratoga
Body Type: Sedan
Trim: 4 Door Sedan
Warranty: Vehicle does NOT have an existing warranty
Engine: flat head 8 cylinder
Vehicle Title: Clear
Drive Type: RWD
Fuel Type: Gasoline
Mileage: 52,012 
Exterior Color: Black
Disability Equipped: No
Interior Color: Tan
This item has been sold.
eBay Store