Oil City Flag Pole…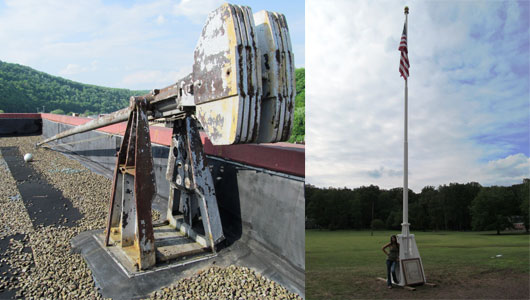 This magnificent flag pole once towered from the top of the Oil City National Bank.  Little known today, Oil City, Pennsylvania, was once a sprawling oil boomtown.  In the 1800s, when the first commercial oil well was dug up nearby, this town was where Rockefeller and other business titans chose to expand their vast wealth.   
The bank was organized in 1863 as the Oil City Savings Bank; in 1899 the name was changed to the Oil City National Bank.  In recent years, the town has declined.  As local oil wells have dried up, major companies like Pennzoil and Quaker State have moved their headquarters from Oil City; the local economy has suffered and the bank has been vacant since 2001.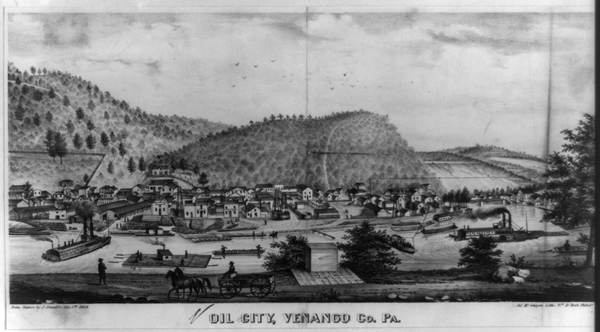 This flag pole remains a powerful symbol of the town's story and proud American spirit.  Built masterfully, its pivot and counterweight still move effortlessly, even after years of disuse and neglect.  Jay was able to restore it back to its original glory.  Decades of exposure meant that he had to take its base apart bolt by bolt, refit or manufacture broken pieces, sandblast and paint every piece, and then put it all back together.   After the pole received one coat of epoxy primer and one coat of white epoxy paint, the globe was repaired, painted gold and reattached.  We then put on a new halyard and brass snaphooks and raised a 6 by 10 ft.  American made, American flag!  Included with the flag and flagpole is a water color that we feel belongs with this flagpole.  This painting was commissioned by Emmett C Bailey Architects from Oil City, Pa as a rendering of their proposed building project.  Included in that rendering was a large flagpole atop the bank! 
 Throughout our young country's history, American pride has shined.  Oil City represents the economical success possible in our great country and embodies the American dream.  But even during our most difficult times, our patriotism has prevailed.   We are extremely proud to give this flagpole a new life and it our sincere hope that you enjoy this beautifully restored piece of Americana that embodies the rich and beautiful history of both Oil City and the United States of America.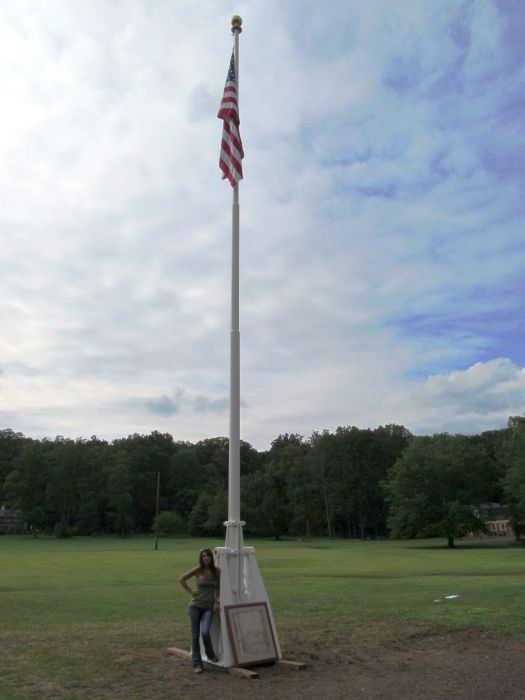 Measurements:
Height: 38′ 
Qty: 1
Inventory #: Oil City Refurb
Place a Bid
eBay Store