Upcycled Coke Cooler…
This Coke cooler was recovered from a cotton gin in Watkinsville, Georgia. Founded in the late 1800s, the Thomas Family Cotton Gin is representative of the famed industry of the Old South. Although the gin has been closed since the 1970s, a victim of the declining textile industry, it is a fascinating snapshot of a bygone era.
The cotton gin was invented in 1793 by Eli Whitney. It used a combination of wire screens and small wire hooks to separate cotton fibers from their seeds. These fibers could then be processed into cloth. The cotton gin revolutionized the cotton industry and played an important role in the history of the American south.
This Coke cooler was kept on site at the cotton gin to offer workers a cold, refreshing drink. Coca-Cola had been invented in 1886 by Civil War veteran John Pemberton. In the early years, having a Coke meant sitting at a soda fountain. However, the rising popularity of the Coke cooler in the 1930s meant that the cotton gin workers could have fountain drinks easily accessible to them throughout the day.
Given the choice of restoring or repurposing an object, we take many things into consideration. Whenever possible, and particularly with a nostalgic object such as this, we try to return something to its original condition. When restoring an item like this Coke cooler, the goal is to make it look like it did when it came out of the show room sixty years ago. The first thing we did was to have all of the dents and dings removed by Thornton's body shop. They did an amazing job of returning the body to its nearly perfect original condition. At one time, there were pipes run in and out of the cooler (presumably someone used it as a basin of some sort). They removed those pipes, filled the holes, fixed any other imperfections, soda blasted it and painted it that famous Coca-Cola red. Pinstriper DeWayne Connult then came in and hand painted the white Coca-Cola logos. From that point, we worked on the original compressor to see if we could bring some life back to it. And we did—-temporarily. Unfortunately, while the original compressor kept our drinks icy cold for a minute, it quickly sputtered out. While we debated putting a more modern unit on this, we opted not to hoping that we could keep the machine completely original. Rather than make the decision to rebuild the original compressor entirely or replace with a modern compressor, we've decided to sell this as-is and leave that decision to its next proud owner.
Over a century after its founding, the Coca-Cola brand is a worldwide leader in the beverage industry and an icon of American culture. This Coke cooler, restored to the way it would have looked to its original users, embodies both the industry of the American South and the intrinsic Americana of Coca-Cola. Whether restored completely to a working cooler or repurposed for some other use, we hope that you and yours enjoy a Coke, a smile and fond memories of times bygone.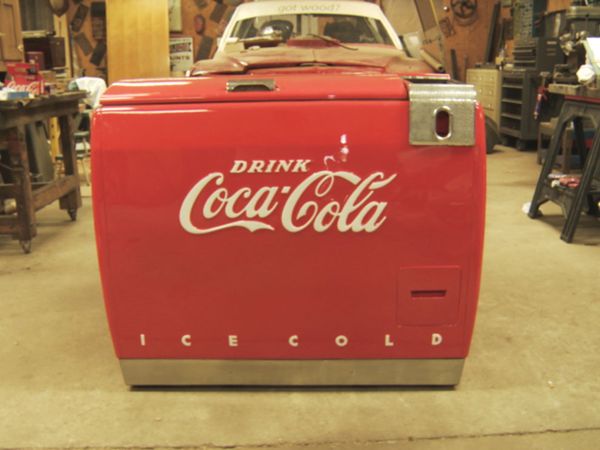 Measurements:
Depth: 26″
Width: 46″
Height: 36″
Qty: 1
Inventory #: Homestead Refurb
Place a Bid
eBay Store