Upcycled Klot's Mill Chair…

This unique chair was created from an industrial wooden pushcart that was recovered from the Lonaconing Silk Mill.  This mill, owned by the Klotz Silk Company, employed over three hundred people in the 1920s.  However, beginning in the 1930s, with the introduction of rayon and other new materials, silk production began to decline.  On July 7, 1957, after a prolonged labor dispute, the employees of the Lonaconing Silk Mill walked out and the mill closed forever. 
The mill has been left intact since that day, preserving a distinct era of American history.  It is believed to be the last of its kind in the United States.  Silk mills, like the one in Lonaconing, Maryland, were used to twist or wind raw silk into thread and yarn.  That thread would then be sent to manufacturers to be woven into various textiles.
This wooden pushcart played an important role in the work of the Lonaconing Silk Mill.  It would have been used for moving spools and materials between the floors of the factory.  The cart was wheeled, making it easily moveable, and was able to be tilted, allowing for smooth transition between thresholds.
This cart has now been transformed into a one-of-a-kind leather chair.  First, the  front of the cart was  removed and a frame was built to bring it to seat height with arm rests.  Local upholsterer, Lee Snook then took the body of the crate, along with a full cow hide to create this beautiful leather chair.  It remains wheeled, making this chair easy to move, but also comes with wooden blocks to hold the chair in place.
Not only is this a beautiful, unique piece of furniture – it also captures a moment in the history of American industry that can now be preserved for years to come.  It is our hope that while you enjoy the practical value of this chair, you also remember the intrinsic value of the cart which embodies the carts, workers and mills from a great and too often forgotten era.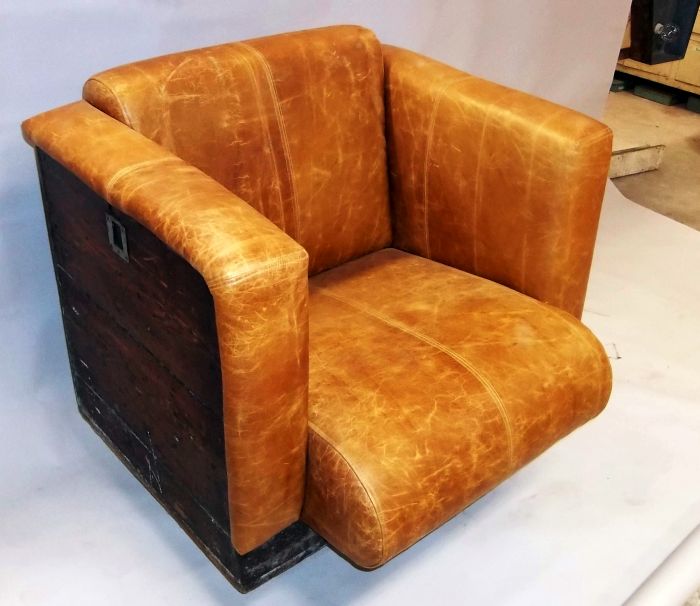 Measurements:
Depth: 25″
Width: 31″
Height: Seat Height: 19″; Side Height: 31.5″; Back Height: 25″
Weight: 122 lbs
Qty: 1
Inventory #: Silk Mill Refurb
Place a Bid
eBay Store