Reclaimed Relics…
Reclaimed Relics is one of our many business ventures that we do as a husband/wife team. As our kids get older, they too work with us not because we make them, but because they have a natural tendency toward creating things and they love old things: a perfect and unsurprising match! You will never hear us say that anyone works for us but that they work with us. Although most people who help us are not family by blood, we really are a family and could not do what we do without Dan-o, Elijah, Lauren, Uncle Jody, Mark or Danny. More often than not, we ask them to go above and beyond the call of duty and they do it everytime! While we all work very hard, we also have a ton of fun thanks to the great people we're with everyday.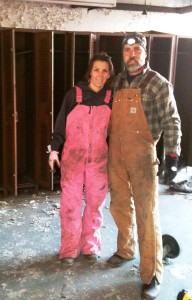 Meet The Staff
Jay

Jay is owner and the creative mind behind Reclaimed Relics. His natural love of anything old and his wild sense of adventure are what created the idea of a business such as Reclaimed Relics. In addition to having a love and good eye for valuable artifacts, he is an amazing and meticulous artisan who can turn what might look like junk into a treasure every time! His passion and enthusiasm for exploring and antiquities are contagious and he can get anyone excited about history. He has an uncanny ability to get just about anyone onboard with almost any crazy "Jay-dea".

Ricki

Ricki is Jay's wife and business partner in all of their companies. Like Jay, she also loves history, antiques, traveling and Americana. But while Jay is the creative mind behind their business, Ricki is the business mind. She takes his wild ideas and helps figure out how to funnel them into profitable businesses. In most ventures, Jay is the gas and she is the brakes. While being business partners adds a whole new level of excitement to their already busy life with four children, they both agree they wouldn't do it any other way.

The Chaikin Clan

Tucker (12), Cooper (11), Mason (9) and Colbie (3): What makes life most interesting are Jay and Ricki's four children who have all inherited their parents enthusiasm for going anywhere, doing anything and all of whom would choose an antique over something new! They are all wild and crazy in their own ways and extreme in everything they do. They visit the local emergency room often. They know Ricki by first name.

Lauren

Lauren does anything and everything in the office that Ricki can't get finished. She has a Bachelor's degree in English from Temple University as well as a Web Design & Multimedia certificate from Bucks County Community College and while Jay is an artist in his shop, Lauren is an artist in front of the computer.  Whether it's information, organization or web design needed, Lauren is everyone's go-to girl. She is highly focused and mild mannered and some days probably wonders how she ended up with this crazy gang of people.

Summer

Summer Beckley has been the Chaikin kids' favorite babysitter for four years while studying at Temple University.  While she still babysits, she is also now working here in the office at RR.  A natural fit, Summer has an interest and background in history as well as communications which has made her a great social media expert for a company like ours that specializes in anything and everything historical.  Nickname:  "Chum-Chum" which is how our youngest child pronounces her name, but it has stuck and she is now Chum-chum to us all! 

Dan-o

Dan-o has been with Jay and Ricki in some fashion for over a decade. Dan-o is good at just about everything and Jay can count on him for anything. There is no job too big or small and Dan-o is a great sounding board for Jay. Sidenote: Dan-o says that he knew ever since he babysat the three Chaikin boys (ages 3, 2 and new at the time) that he didn't want children.

Elijah

Elijah is the newest member of our "yard" crew. And by yard, we mean any warehouse, shop, building or field that needs loading, unloading, inventoried, or organized. Whether it's as simple as running to Lowe's or as large as unloading an entire truck full of relics , he's on board with the same level of enthusiasm. For now, he is low man on the totem pole and the guys don't let him forget it. But we feel a promotion coming on.

Jody

Jody is Jay and Ricki's brother-in-law and is a jack of all trades and a master of most. Whether taking down an entire building or refurbishing the smallest item, there is very little that requires any aspect of carpentry that Jody can't do. Jody can work with anyone or be a one man band; he is brains and brawn all in one….the total package!

Uncle Danny

Uncle Danny and Jay have been adventuring together since they were kids. While Danny has an interest in antiques, his main thing is anything with a motor. If there's an engine and Jay needs to phone a friend, it's Uncle Danny. Danny has logged thousands of hours riding shotgun with Jay listening to his crazy ideas. Favorite Uncle Danny line: "Chaikin, your brain is hurting my brain."

Mark "Sleeveless" Pakenas

Mark is one of the best (and funniest) guys we've ever met. He might not know a lot about antiques, but he's willing to go anywhere and do anything! He's huge in size, but also afraid of heights, ghosts, dark places, loud noises, many animals and some people. But for some reason, he'll follow Jay anywhere and would climb a ladder with a ghost to help Jay if need be. Sidenote: Mark's greeting: What's crappenin?